Update May 2020: With the current situation on COVID-19 Pandemic, Online ERP is a viable solution to help businesses to run management of main business processes online. Administration can be managed even if your staffs are WFH, click here for WGSHub's selection of ERPs.​
---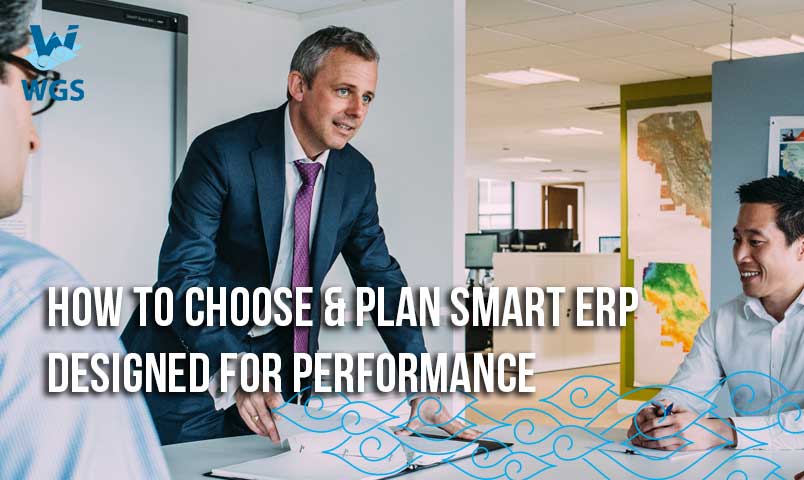 Enterprise Resource Planning (ERP) has become a must-have software for businesses that want to leverage their resources for performance through simplified and enriched business interactions. Organizations implement ERP to improve business performance, position the company for growth, offer better service to customers, or ensure reporting or regulatory compliance.
An ERP system is a software solution comprising of different modules that consolidate data and information from different departments into a single-source of truth. The implementation of an ERP is aimed at optimizing the IT infrastructure to support the business processes in such a way that an organization's strategic objectives can be achieved in an efficient, cost-effective manner. This is done by integrating and optimizing business processes and technology to achieve process and control efficiencies, cost reductions, and effective compliance management.
At WGS we can help you with this solution, here's our share on how to choose & plan your ERP in order to effectively improve your business performance. By optimizing productivity through efficient planning and scheduling of resources, an ERP application must be designed to provide enterprise-wide visibility of data and information. Consequently, an ERP designed for performance must possess the following properties;
Easy-to-implement workflows for improved productivity
The concept of a workflow is at the heart of any design of an ERP. A workflow enables an organization to maximize productivity by ensuring that things are done in the right order. It helps to streamline business processes, track employee performance, and analyze results.Building on the capabilities of the Odoo platform, we are able to build highly customizable ERP software. In one of our previous projects for a Singapore-owned bank in Indonesia, we implemented elaborate workflow customization to support their banking processes. As a note most Odoo projects have 3 levels of approval, however, more can be added with extra customization effort.
Improved business processes for enhanced efficiency.
A business process is a set of steps or tasks that an enterprise uses repeatedly to create a product or service, reach a specific goal, or provide value to a customer or suppliers. A well designed ERP helps to improve the business processes in order to meet customer demand and business goals more effectively.Before building the workflows in an ERP, you must first ascertain the most productive way of executing the daily tasks in your business. With proper planning, we can develop custom ERP software that will deliver improved efficiency for better performance of your organization.
Flexibility to changing operating environments
A well-designed ERP must be scalable so that it can grow with the business. The business environment is always changing due to changes in law, regulations, and standards. Therefore, the management of the business processes in an ERP should be flexible to accommodate these potential changes in the operating environment.For example, WGS HR applications conform to and adapting to changes in the nation's labor laws and regulations. Furthermore, this is not a matter limited to ERP systems only, we will also conform to the regulations on other types of projects such as fintech for many countries of the world.
Modular Architecture for phased implementation
A good ERP system implements an open modular architecture. This means that the ERP is made up of many independent but interlinked modules such as sales and distribution, accounts, human resources, manufacturing, project management, etc.The modular architecture ensures it is easy to isolate and fix a malfunctioning module without affecting the operations of other modules. The modularity and openness of an ERP allow is to evolve with an organization making it possible to have a phased implementation of an ERP by procuring the modules on a need basis. To learn more about the modular architecture, visit our Odoo ERP page.
Ease of Integration with other systems
The modern business environment requires that IT systems be able to interact with other internal and external applications. Similarly, a good ERP should have capabilities to interface with other systems thereby bringing order in the utilization of the organization's resources (People, material, finances, etc.) for the efficient functioning of the enterprise. Successful integration between systems breaks down the information and functional silos which hinder productivity.Our success story in the implementation of flexible integrated ERP solutions can be found in our warehouse ERP system for UMG Group of Companies, Myanmar. This particular implementation interfaces with their e-commerce system (which we also built). The warehouse Inventory system provides the e-commerce site with details of available inventory levels while receiving sales figures from the site to update the inventory.Additionally, we are building an ERP system for Nutrifood's WRP Diet Center in Indonesia which connects to their main Oracle system.
Customizable reports which facilitate faster decision making
A good ERP should have an easy-to-use reporting facility. The reports should be customizable to meet the reporting requirements of the organization. Examples of reports which an ERP should generate include profitability reports, job costing reports, daily labor reports, inventory, aging reports for creditors and debtors, customer history, and so forth.
Process-oriented views to eliminate redundant processes
In the implementation of a good ERP, functional specificities of each organizational unit/department give way to a process-oriented approach that promotes informational integration and communication between units. This is possible through process re-engineering which removes non-value adding activities from the business.
Automated Functionality for improved efficiency
ERP systems provide some level of automatic processes that are triggered by certain events in the system. Examples of such automatic functionality include electronic funds transfer, electronic data interchange, and e-Commerce. With this automated process, the organization is able to save time and effort thus further improving productivity.
Search functionality helps in faster decision-making
A great ERP system should have a reliable search function. This function enables ERP users to scour the organization's database for relevant information for faster decision-making.
Implementing or upgrading an ERP system is a resource-intensive investment and its efforts begin with strategic planning and extend to implementation and well beyond. It promotes collaboration by providing one version of the truth so that employees can work together and benefit from outstanding usability and accessibility of information. Designing smart ERP systems that enhance an organization's performance is of paramount importance.
For companies that will have extensive & constant upgrades to your ERP system, our ADMS service will enable you to build an ERP that can be constantly enhanced & upgraded on request with the Agile Scrum method. For more details on how we can help you to build fully customized ERPs to improve the efficiency of business processes, please contact our team here.