4 Effective Strategies for Improving Employee Satisfaction
0 Comments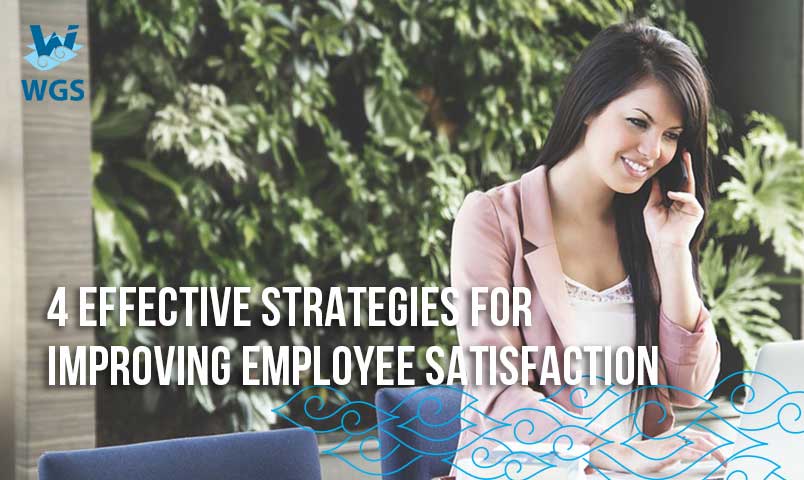 According to The Conference Board's job satisfaction statistics for 2016, just over half of US workers (50.4%) are unsatisfied with their jobs. Ironically, according to the report, this is the highest level of overall job satisfaction since 2005. This compares to the 2013 report by the staffing agency Kelly Services' which showed that 48% of the employees globally were unhappy with their jobs.
Faced with such statistics, organizations operating in today's highly competitive business environment are always looking for ways to keep their workforce engaged in, and satisfied with, their jobs.  As a result, futuristic organizations have resorted to leveraging technological advancements to improve the employee experience. By using simple but well-designed HR systems and with effective utilization of consumer marketing tools for internal marketing, organizations can create a happy workforce which is proud to work for them.
Job satisfaction is an important factor in achieving high productivity, staff motivation, as well as stemming high staff turnover. Below, we analyze some 4 ways in which businesses can double their employees' satisfaction;
1. Listen to your employees
People are happier, more committed and engaged when there is a process to collect their feedback, suggestions, and ideas.  An employee's sense of ownership and pride in their work receives a major boost whenever they see their organization utilizing their input, even if with modifications, in decision making.
One way in which an organization can achieve this is through the development and deployment of an internal social media application through which employees can freely engage with each other. Mobile technology has changed the way employees work, interact, and engage. Embracing social media and social collaboration tools in an organization enhances employee engagement and fosters a cohesive culture.
Our WGS' Mobile Engagement Social media app, is one of such systems designed to improve communication between an organization and its employees. Within the corporate tab which works as an internal social media, while it enables your company to share news, events, and notifications; you can also post voting / open questions for your employees at set times. The laid back & networking nature of social media can help your company to get the employees to express themselves better and share more insight for the company. It's more fun with stickers & events too.
2. Learning and development
A learning and development policy determines how an organization sustains productivity and performance by developing its employees' skills, capabilities, and competencies. With technological advancements, businesses are increasingly adopting more effective innovations that engage talent and improve performance. Some of these modern learning techniques include e-learning where learning is conducted via electronic media and gamification where gaming attributes such as addition and completion are applied in training.
Further, organizations are embracing mobile learning solutions such as mobile learning apps and mobile web-based learning solutions. Mobile learning solutions help to improve adoption, expand global reach, and engages users better leading to better job satisfaction scores.
Additionally, companies can improve their employee confidence and overall expertise, and by extension job satisfaction and retention rates, by applying adaptive learning techniques. These techniques allow employees to learn at their own pace. This is achieved in organizations where employees are monitored individually and in real time in order to establish the best learning approach that suits their individual needs.
Companies can improve the effectiveness and attractiveness of their learning and development functions by making them more appealing to modern employees who seek more flexible and interactive learning environments. This can be achieved through the adoption of social learning tools such as videos and micro-blogs.

Employers can create an atmosphere of growth
3. Create a positive working environment
A motivating working environment encourages employees to go over and beyond the call of duty in ensuring the success of the organization. In order to deliver working environments which boost the overall employee job satisfaction, organizations must invest time and effort is establishing the factors which "turn on" their employees.
In order to create the critical link between the organizational success and the employee's performance, individual employee's KPIs are developed in terms of organizational KPI's. Once this is done, a positive working environment enables employees to remain positive by helping them find the meaning and purpose of what they do. They are able to remind themselves, as well as others, why their jobs are important and how they add value to the organizations and its objectives.
Employers can create an atmosphere of growth by celebrating achievements, motivating employees to exceed their targets and learn new skills, giving employees more control, breaking up routines through random acts of kindness, and encouraging fun at work.
4. Promote good health
Poor health is not only detrimental to employee welfare but is also damaging to the organization. Successful organizations help their employees to avoid stress and improve overall health. Educating employees on health topics through providing reading material and seminars provides them with motivation and a support system.
Employers should encourage their employees to make positive choices outside the office and exercise regularly in order to avoid negative side effects of unhealthy living such as weight gain, lower immune system, increased risk of disease, and fatigue.
Health topics such as stress management, exercising, and healthy eating, can be disseminated through the electronic bulletin board of an internal social media app. And to help with managing employee wellness programs, WGS has helped Adira Insurance to provide their clients with a web application to support employees running Wellness Program. The application has a back-end module which allows health consultants to create and schedule wellness programs while a front end module allows company managers to select scheduled wellness programs for their teams.
Conclusion
Doubling the employee job satisfaction need not be an expensive exercise. It calls for a creative, collaborative approach in developing a culture that motivates, inspires, and nurtures an environment that brings out the best in individuals and teams. When it comes to job satisfaction, technological innovations such as a modern HR system and effective internal marketing will encourage openness, versatility, and collaboration making your employees proud to work for your organization.
For technical consultations on how you can leverage technology to double job satisfaction, contact us here.