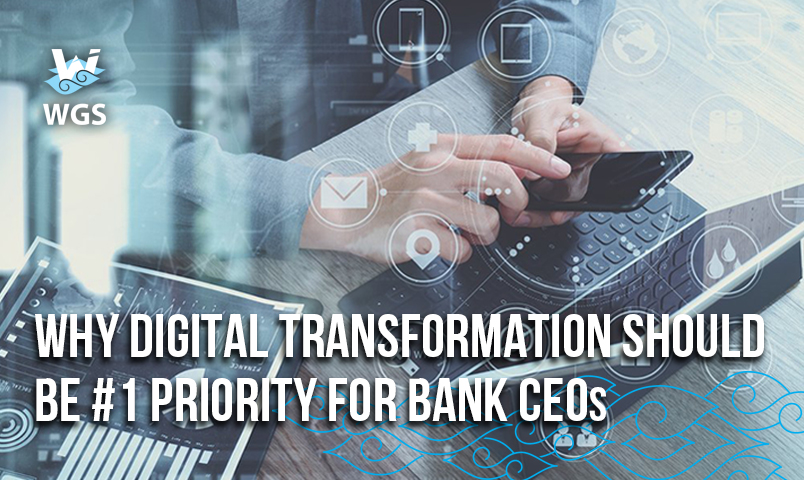 With a high increase in digital devices usages such as smartphones, laptops, and computers, this change brings a big impact on the people and the industry. General consumer's behavior is changing due to this digital trend including the way they do financial transactions.
This behavior also encourages the growth of local e-commerce. Features like cashless payment, branchless banking, e-commuting, fintech, and other internet-based bank services are getting bigger in number. Like it or not, the banking industry will need to keep up with adoption into this digital trend.
Bank CEOs and managing directors who are not aware of digital transformation strategies are at a higher risk of losing business opportunities. In other words, in order to be the winner in the field of business, digital transformation is a must do for the banking industry.
Digital transformation is not only about investment in digital technologies, it's also about modification of the organization's function, back office technology, and even a newly adapted business model. Digital transformation in an advanced level leads to new business value, better customer engagement, and winning the competition.
Here are 3 reasons why digital transformation is important for managing directors and bank CEOs:
1. To compete better
Competition in the banking sector is getting tough. There is no doubt to say that the banking industry is one of the business sectors that must embrace digital transformation in order to be successful in this tough competition and fulfill the customers' needs. In order to catch up, you need to adopt the right digital innovation.
Here are some tips for your business to survive in this digital era:
Minimize problems that may interfere with customer comfort in every banking transaction journey.
Apply data-based analysis and knowledge as the company's reference in making decisions.
Administer digital payment service and build digital market competency to be on the same level as the prime online business players.
Make use of advanced technology as soon as possible, preferably with the help of an early adopter, our WGSHub services can help you with this.
Build an organization / division that supports the digital environment.
Involve human resources with good digital capability to support the internal environment of the company.
2. To grow better with a bigger market
Many bank services use digital transformation as a way to engage with customers. One of them is the mobile banking application to allow customers to easily make the financial transaction. There are also some other supporting features to get banking activities much easier for them. Customers are getting aware of technology development. Digital innovation should be a top priority for bank CEOs in order to be relevant to the customers and to grow business better.
3. Cost-effectiveness
Banks who go digital can decrease costs and streamline processes more efficiently. Going digital also improves the overall customer experience by creating more opportunities for engagement. Another benefit is a cost reduction in the banking workforce, as business automation will improve your workflow. Another example of cost saving would be in paper statement and document as Banks don't have to send them to customers as it can be done digitally. These digital systems make everything trackable dan easy to access.
From the customer's side, digital technology offers safety and convenience. The digital transformation increases customer experience with lower transaction costs.
Conclusion
Bank CEOs would be preferable to go with digital trends. As the change in customer behaviour due to the introduction of the internet and smartphones, the traditional system is slowly dying while ease of use makes digital channels to be the current customer's preference to reach your banking service. Customers are valuable, adopting the right digital transformation in your industry could enhance your business further and keep your customers happy, WGS has a strong experience with the finance and banking industry in Indonesia and currently entering Singaporean banking market, with this experience we're confident that we could help to discuss and improve your banking services to meet your goal.