The Ups & Downs of Digital Transformation for Banking Industry
0 Comments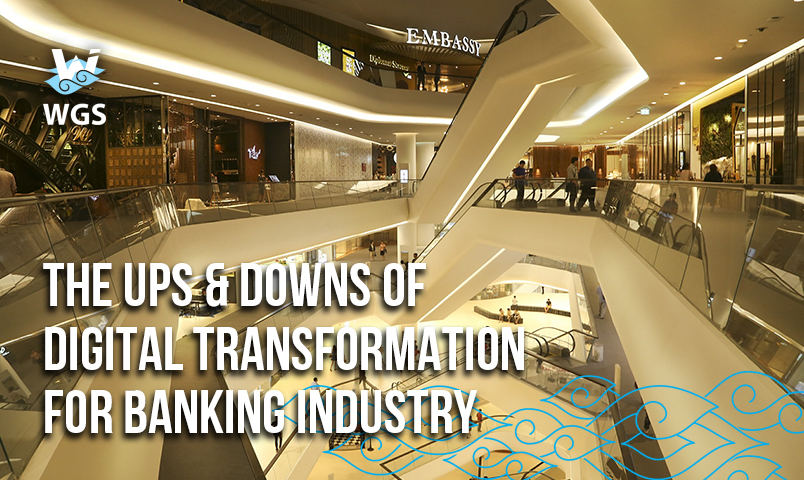 Digital transformation in banking industry refers to the re-evaluation of business models, banking operations and customer experience. Digital transformation is about adopting methods for transforming innovation and digitalization.
Innovative methods are to deliver values, increase revenue and to improve the overall efficiency of the banking industry. However, the digital transformation for the banking industry possesses both, positive and negative impacts.
Let's take a look at them one by one:
A. The positive impacts of digital transformation for the banking industry
Banks running on a digital core can identify reduced costs and streamlined processes. Digital transformation in banks provides engaging customer experience as well. Further, it provides more room for transformation in business like blockchain and artificial intelligence.
The followings are some other positive impacts of digital transformation for the banking industry:
Time efficiency
The biggest revolution in the banking industry is digitalization. Customers can enjoy faster banking process than before. Let's say to check a balance, customers don't need to bother to come to a bank which may take their time. Instead, they can use the internet banking facility as a solution. Customers can use banking applications to pay bills, transfer money, etc. Limited time and distance are often an obstacle for people to open bank accounts and take care of their finances in the bank.
A virtual branch is a digital application that can be accessed via mobile devices with an internet connection so that people can open a new account and ask about banking services directly to CS Representative without wasting time going to the bank. Customers can enjoy fast processing and a reduced cheque clearing time by a technology called MICR. MICR stands for Magnetic Ink Character Recognition. MICR has printed information on documents so that the code line information can be captured by magnetic recognition device.
This feature reduces fraudulent cheque case. Fake cheques, which are made by using color photocopy machine, will result in incorrect code when being scanned and MICR reader will reject it. So not only customers have faster banking service, but also a secure and safe transaction.
Staff reduction
Going digital means automation which refers to staff reduction and layoffs. Accounting, bookkeeping, and auditing clerks have the risk of becoming automated in the near future. Maybe this sounds negative, especially for the employees. As a matter of fact, if banks apply automation, they can provide better earnings for the employees.
Employees who are qualified enough can get career improvement instead of staying at the same position which has a risk to be automated. In addition, the demand for data scientists with banking experience is still growing. New workforce model can be developed by the bank industry in order to educate new talents and existing staffs.
Enhancing the Core Banking System (CBS)
Computerized banking also enhances the core banking system as all branches are interconnected and have access to centralized data with CBS. To cope with technological evolution and changes in business practices, modification and update is a must for a traditional core banking system. Computer software, for example, is developed to perform better banking core operations (such as recording transaction, interest calculation, etc.) by a computer network, satellite, and internet as the means.
Digital transformation results in better service
With mobile banking, customers can easily access the bank from anywhere and anytime. They can experience transactions with more transparency. Most banks have provided mobile banking as one of the available features for the customers. But mobile banking only is not enough. Banks need to improve themselves in order to win customers by providing more advanced services. Somehow, this creates competition among banks but in the end, the competition makes them move to a more-advanced digital transformation level while providing better service for customers.
B. The negative impacts of digital transformation for the banking industry
It's like two sides of a coin, digital transformation provides positive impacts along with the negative ones. Digital transformation triggers cyber-attack threats. Millions of data can be lost very quickly. The banking sector is one of the industries at risk the most. Banks need to develop their digital infrastructure to strengthen their cybersecurity.
One way to minimize the cyber-attack threats is by using Web Alarm – Security Monitoring. It was purposely built to protect data from unauthorized changes. This software provides a 3-in-1 solution consists of monitoring, protection, and integrity. Web Alarm is also able to evaluate and handle any suspicious changes that took place in IT infrastructure.
Banking industry considered as a very profitable industry, therefore it is vital that banks are protected from cyber-attacks. There is no doubt to say that new digital technologies are changing the banking industry. Banks that adopt new technologies and embrace innovation have bizarre opportunities to change and improve how they provide financial services including offering the ability to:
develop digital products by collaboration with financial technology partners
provide multichannel and real-time digital interactions for customers
simplify business processes through the adoption of cloud solutions
meet regulatory requirements by the open and agile platform.
Conclusion
The newly improved and innovative facilities offered by technology made the banking industry rapidly progressing. As mentioned before, it's like two faces of the same coin, likewise technology in the banking industry – the negative and the positive sides. The risks are high, but they can be minimized.
WGS provides software solution and application delivery & managed services. Contact WGS team to enable you to ride the wave of the digital era with tech-enabled innovation & business process automation.