For Indonesia, a country that has more than 250 million population, the internet has helped the public to gain more information for their business. Even for farmers, which is the producer of one of the main commodities in the country. Indonesian farmers are scattered through rural areas, located in more than 1000 islands spread throughout the country. Having good guidance will definitely improve their quality of life.
That is why Karsa becomes a breakthrough in the Indonesian farming sector. Karsa is an Android app dedicated to Indonesian farmers. It connects farmers with the suppliers, producers, consumers, and the government. Considering many farmers located in rural areas, it might be a bit difficult for them to gain useful information from the government and to distribute their crops. Therefore, a mobile app like Karsa is a convenience to meet their needs. WGS developed the app and it was launched this early September and already got a good impression from Tempo, an Indonesian national media and IT blogs like DailySocial.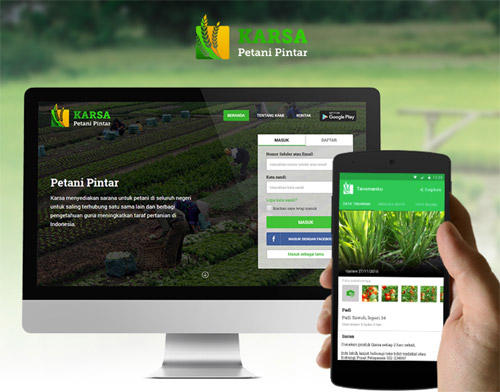 Benefits from Mobile Application Utilization for the Agriculture Industry
Weather forecast

With GPS tracking, farmers can predict the weather based on their field locations. This will help them to anticipate drought season or wet season. Usually, farmers will plant the crops according to the season for optimum harvest.

Harvest prediction

Based on the planting time and type of crops, the app will predict the harvest time. Therefore the farmers can make the farm plans and control the distribution of the crops to the suppliers.

Pests and diseases control

Farmers can connect with the agricultural materials supplier to arrange which materials they need. This includes the arrangement for pest control and other fertilizers. Agriculture specialists (from the government bodies or NGO) can also give more information about disease control and how to avoid them.

Market price information

The government can also contribute in this app to give more information to the farmers, or national announcements for specific cases. This includes the national market price, crop distribution, or any details that will be needed. This will stabilize the market price and avoid illegal wholesalers for national crops.
Karsa mobile app was built to help digitalize the agricultural industry in Indonesia, considering the high number of mobile users in the country and to level up the smart farming system. Hopefully, more apps like this will help Indonesia to get connected in every important aspect of the community.