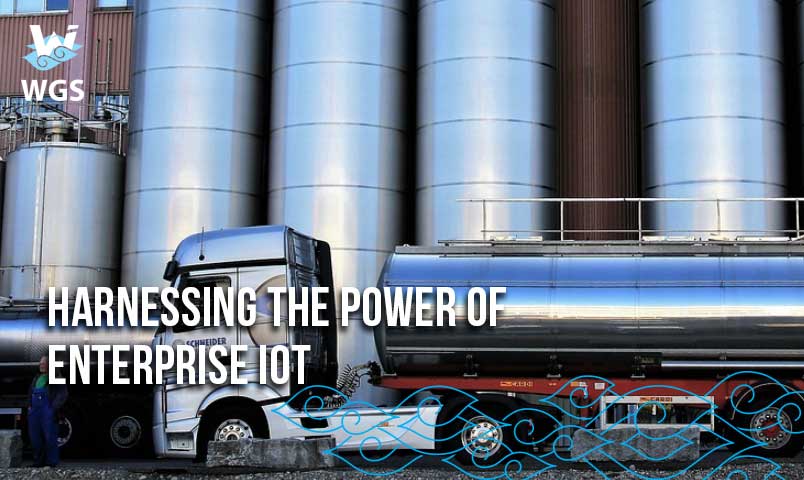 Have you ever heard of what Internet of Things (IoT) is? Yes, IoT is a concept whereby an object has the ability to transfer data over a network without having direct interaction between human and machine. There are so many uses of IoT for direct product to consumer such as wearable devices for health improvement, smart vehicle, and smart home technologies.
Recently, IoT were known because it changes our lifestyle and simplify our daily lives. However, could IoT itself applied to enterprise? Enterprise Internet of Things or EIoT has many interesting advantages & challenges in its use. EIoT can acts as controller to set frontline datacenter, collecting, analyzing, and taking action upon data from its connected sensors and devices. This controller can send important data to the data center, so it can affect how data transmission and reduce delivery time, which can provide fast decision making so as to provide a new approach in the enterprise such as autonomous handling for data.
With IoT Architecture like hardware, ubiquitous nature of connectivity, big data and analysis, customer expectation are dramatically expanding the IoT and making it possible for every enterprise to gain many benefits. According to an SAP Digital Transformation Executive Study, companies leading towards digital transformation are more likely to have invested in IoT technologies than the other companies, which is 76 % to 52 %.
There will be some problems that need to be solved if your company wants to implement IoT, there are:
Connecting both new and legacy devices from an array of vendors working to sometimes opposing standards
Connecting Bluetooth and Bluetooth Low Energy devices to IP networks over other wireless transports like Wi-Fi and LTE will require new approach
Making information from deluge of data resulting from the IoT will call for a more distributed computing model
Authenticating small, power-constrained devices and encrypting their traffic presents security challenges need to be resolved
To overcome all the problem, WGS can help you to solve the problem and make it much more better. Some of our solution that we've developed are IoT for remote monitoring of vending machine, a custom visitor counter for Microsoft's Tech Day to show off their PowerBI and more.
IoT goes beyond Machine to Machine (M2M) communication, these devices collect useful data and autonomous. The data flow to server application for remote monitoring. It also calculate and compare machine's efficiency for analysis, and keep track of each machine's maintenance logs. IoT can also make your enterprise gain many profit by fast calculation of production material usage and depreciation so it can minimize the outcome of company. Contact WGS for more information on custom built IoT solutions.