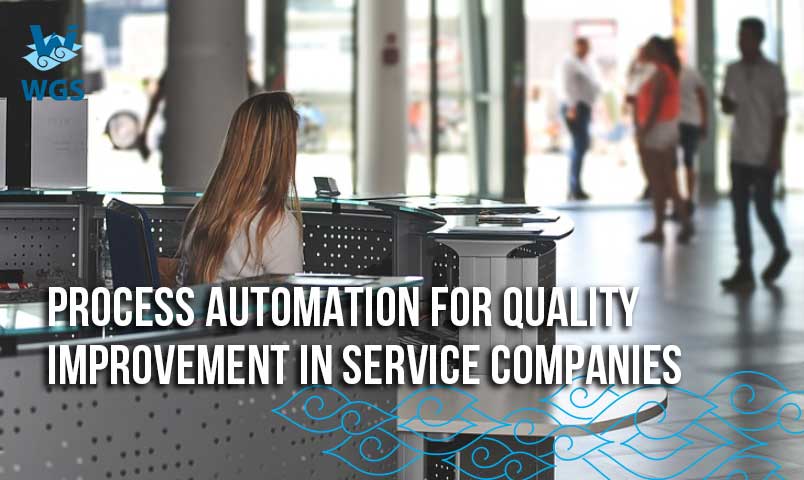 It is common that a service company may face several fears related to the quality of the service, late/slow response, and process inefficiencies. To help with it, businesses can deploy workflow engine for improvement on productivity, increase process transparency, reduce business reaction times, and enhance accountability.
The implementation of a workflow engine involves defining and executing computed solution for the automation of business processes. People passes tasks, information or documents to execute an action by using a set of procedural rules in workflow engine. For a live-case example, WGS helped a government-owned company to track expenditure, process, history, and time can be easily tracked using E-approval payment application in this case study.
With workflow automation, services companies can ensure the correct process by using the proper tools to simplify work and expands capability. The company will be in a better position to retain customers with greater service and value. One way to implement quality assurance in workflow is by capturing the policy and procedure information into an easily accessible checklist.
Below, we show you 3 ways to help your Service Company in improving quality assurance using workflow:
Business process heat map for process improvement
Your company will be able to see business process improvement by visualizing the process in a heat map. This approach will help companies to provide a better service. For example, if you're mapping out the expense approval from one of the projects, you would use a procedure based heat map.Heat mapping is one of the ways to analyze and determine what works best. CIMB Niaga one of the largest bank in Indonesia by assets, improves their management system using our workflow engine. With Service Level Agreement (SLA) setting for each of their approval processes, the system helps the company boost their productivity and improve their business processes performance.

Setting up workflow for QA (Quality Assurance) can help minimize errors in service delivery thus improving the quality of output. Workflow engine's heat map will collect metrics of a certain business process to provide continuous feedback for improvement.Workflow will help to generate electronic checklists and assigning tasks to specific individuals automatically, and users can also share feedback and flag checklists for review. A workflow engine enable systematic monitoring and evaluation of indicators and improves service delivery through the PDCA (Plan, Do, Check, Act) cycle.

Finding the most suitable person for the job
One of the critical steps in the workflow system implementation is the design of the business processes and establishing their sequences. At the design stage, each business process divided into simpler tasks, and the system developer ensures every task is adequate with the resources including the human skills that execute the tasks. You can setup a KPI system that take workload as a consideration or use heat map to analyze each of your division.

Every user has some explicit responsibilities in the business, and they can fulfill their mandate of their suitable rights / privilege in the system. Consequently, the workflow application matches the best suitable resources appropriate with the correct procedures conducted by the company that will greatly improve the quality of the services offered by the enterprises.

Build comprehensive oversight for effective management
Workflow application can be an official record of work to help the organization running with everyone juggling multiple tasks at once. The system acts as a central repository where tracking, monitoring, trending, and reporting on performance information can be done.

As previously mentioned in point 1, on WGS project for CIMB Niaga, we developed this application to avoid some difficulties at work such missing paper or prevent the paperwork stuck on one of the staff. The important thing of an effective management is in distinguishing users into two different classifications. The first is user with responsibility to move the process from one stage to another. The second is user who tracks time that needed in every stage.

It gives the organization the tools to track actual performance against Standard Operating Procedures. This enables them to identify deviations at the earliest opportunity possible and manage information in a single system.
Conclusion
The use of workflow automation for quality assurance will optimize the quality of service that company provides to the customers by increasing the efficiency of business processes. The workflow automation improves productivity and provides a better system for the team to monitor the task flows with Heat Map and a flexible KPI system. To work with WGS team and provide your customers with excellent quality and on-time service please contact us in here.