When you are thinking to jump into e-commerce business, you will need to determine your market segmentation. There are several 'playgrounds' that you can work on, in which you can concentrate on the business models based on these categories.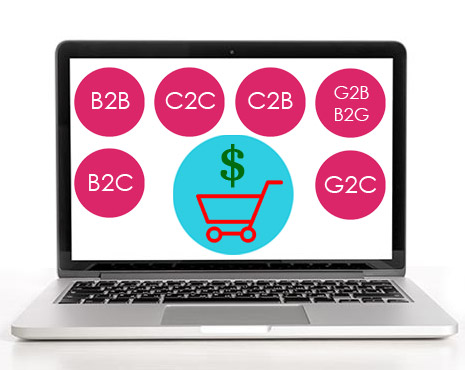 Business – to – Business (B2B)
B2B business model is when you sell your product to another business owner, not to the final consumer. Usually, this model is done by the manufacturer to wholesaling company or software company to retail industries. The example is as simple as a bookstore buys stationeries from a pencil manufacturer's website. The pencil manufacturer and the bookstore are conducting business to business (B2B) trade. The pencil manufacturer can distribute the products through its websites so wholesalers from all around the world can place their orders.
Business – to – Consumer (B2C)
Following the B2B business, usually, the business entity then sells the product to the final consumers. When the bookstore sells the pencils through its website for the final consumers, then it becomes a B2C (business to consumer) business.
Consumer – to – Consumer (C2C)
Consumer to consumer (C2C) business website is gaining more popularity these days, as the economy drives people to be more 'creative' in making a profit. When one consumer wants to sell his assets (such as car, bikes, clothes, etc.) he can put an advertisement on the website so another consumer can see and buys them. The website can charge the consumer for advertisement, or gains profit by helping the first consumer selling his products.
Consumer – to – Business (C2B)
In a consumer-to-business (C2B) model, consumers sell products and services to the business entity via an eCommerce website. An example of this business model is on the rise nowadays, in which a blogger provides a fee-based review service to promote a business's product or service. A company can pay a blogger or YouTuber to post a review about the company's product on the blogger's website or Youtube account for other readers/viewers, who will become consumers.
Business – to – Government (B2G) and Government – to – Business (G2B)
B2G model is a variant of the B2B model. While in G2B business, the government uses a website for auctions, tenders, and other application for business entities to involve in the government's commerce activities.
Government – to – Citizen (G2C)
The government uses the G2C model website to approach citizen in general. Usually, the website contains various government services such as public auctions, tax registration, etc. This G2C website is very useful to save time and energy in order to conduct various public services.
With these many models that can be done for your e-commerce business, you can always combine the models as you build the perfect website. A good e-commerce website will reflect your good business, and therefore so many things need to be done. We will talk about this other stuff you need for your e-commerce business in our next blog post. Still not sure which one you should commit? You can always contact us for e-commerce business consultation and perfect solution.